Starterkit armStone™A5 Linux
The armStone™A5 in PicoITX format holds standard connectors for 2x Ethernet, USB Host, USB Device and Audio. Furthermore, a power plug is installed. LVDS display signals are found on a 25pol connector, the alternative RGB display interface is on a 34pol ESCDI interface. Resistive Touch (4-wire) is connected via a 4pol connector and capacitive Touch (I²C) is connected via a 6pol connector. The COM1 interface is on a 10pol connector. All other interfaces can be found on J1.
The armStone™A5 starterkit consists of an armStoneA5-V2-LIN (with 256MB RAM, 128MB Flash, Audio, 2x Ethernet, 2x CAN, 3x Serial, USB Host, USB Device, I²C, SPI, micro-SD Card Slot and resistive Touch controller).
Both, RGB display interface (34pol ESCDI) and the LVDS display interface (25pol socket) are equipped. You can either connect a RGB display or a LVDS display (not simulatenously).

Bootloader and Linux Image are already installed.

The scope of delivery includes an additional cable set, a power plug and an USB stick. On a supplement you can find the access data to documentation and software.

Additionally, we offer a 4-hour Workshop. The goal of the workshop is, to learn how to handle the armStone™A5 starterkit and completing it with a running system. Under Linux you learn how to deal with Buildroot and further Linux tools.
Scope of Delivery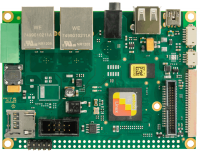 aStoneA5-V2-LIN
NXP Vybrid Cortex-A5 + Cortex-M4, 256MB RAM, 128MB Flash, 2x Ethernet, 2x CAN, Audio, Touch, RGB, LVDS, 0°C - +70°C, 5V Supply, Linux Buildroot, MQX
SKU:
aStoneA5-V2-LIN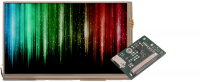 Displaykit RGB 2
7" WVGA Display with RGB interface and touch panel, connection cable (40pol film cable), display adapter and touch cable
SKU:
aSt-RGBKIT

Cable Kit
USB Device Cable, Ethernet Cable, RS232 Adapter, Nullmodem Cable, Power Plug and USB Stick with access code to software and documentation (necessary to start the development).
SKU:
SINTF-CABKIT
Accessories
USB Stick
USB Memory Stick with common memory size (2GB+) and imprinted F&S logo. The USB Stick was tested on all current F&S boards.
SKU: USBSTICK.1
20,- €
 
LVDS Kabel SINTF-LVDS-JAE
LVDS cable with JAE FI-S20S on display-side
SKU: B.MKAB.29
70,- €
 
Displaykit RGB 2
7" WVGA Display with RGB interface and touch panel, connection cable (40pol film cable), display adapter and touch cable
SKU: aSt-RGBKIT
170,- €
 
armStone™ Extension
Routes interfaces of the 66pin feature connector to standard connectors.
SKU: aStone-ADP-UNI1
130,- €
 
Resistive Touch Kit
For connecting a resistive Touch panel to F&S boards with 4-poles touch connector.
SKU: SINTF-ADP-RESTOUCH
35,- €
 
JTAG Debug Adapter
To program Cortex-M4.
SKU: ADP-CMSIS
69,- €
 
Power Adapter
To supply armStone™ and PicoCore™ modules with 24V.
SKU: ADP-NT24V
100,- €
 
Display Adapter Board to EDT Unified Series
Helps to connect a 7" WVGA display by EDT (ET070080DH6/B.LCD.15) with RGB interface and resistive touch panel
SKU: aSt-ADP-EDT1
50,- €
 
armStone™/ efus™/ PicoCore™ DVI Adapter
Connects armStone™, efus™ or PicoCore™ to a DVI/ HDMI screen.
SKU: aStone-ADP-DVI
50,- €
 
PCAP Touch Kit for EDT
Kit to connect an EDT PCAP touch panel
SKU: SINTF-ADP-EDTTOUCH
35,- €
 
7" EDT Display
7" TFT (WVGA) EDT ET070080DH6
SKU: B.LCD.15
120,- €
 
Workshops
Workshops for F&S Boards with Windows Embedded Compact or Linux - Beginner Workshops - Qt 5 - Asymmetric Multiprocessing - Secure Boot
SKU: NDCU-WS1
Request
 
7" LVDS Display with PCAP Touch
7" TFT LVDS Display with PCAP Touch (J070WVTC0211)
SKU: B.LCD.19
200,- €
 
LVDS Cables for 7" LVDS Display
LVDS Cables for 7" LVDS Display (B.LCD.19)
SKU: B.MKAB.51
50,- €
 
7" RGB Display with PCAP Touch
7" RGB Display Endrich MI0700AJT-54CP with capacitive Touch
SKU: B.LCD.18
150,- €
 
50poles Film Cable
Cable for 7" RGB Endrich Display (B.LCD.18)
FFC cable, A50pol., pitch=0,5mm, l=200mm
SKU: B.MKAB.41
10,- €
 
Displaykit 7" RGB - PCAP Touch
7" Display with RGB interface and capacitive touch panel, connection cable (50pol film cable) and display adapter.
SKU: KIT-TFT-7RGB
210,- €